Sunday's Los Angeles Times had, yet another, silly article about Sen. Barack Obama:
Obama Classmates Saw a Smile, But No Racial Turmoil
by Richard A. Serrano
Los Angeles Times, Sunday, March 11, 2007


This time it was about Obama's "angst" as a kid at Punahou School, an elite prep school in Hawaii. The kicker says: "Hawaii classmates recall him as a happy kid who fit in. They say they had no idea of the racial tension inside."
They say that today Sen. Obama is "trying to show that he understands the indignities of racism and the economic troubles that many believe continue to flow from the legacy of slavery."
Excuse me? What's that reference to "economic troubles that flow"?
How about "economic troubles that flow" from gross inequality, discrimination, bad schools, deindustrialization, outsourcing to countries with ridiculously low wages, crony capitalism, and a generally f**ked-up corrupt Republican-dominated Establishment?
The election is a year and a half away and this African-American is already sick and tired of MSM bull**** about Obama's "blackness."
Debra Dickerson made a big media splash with a flippant article titled "Colorblind

"

posted on Salon.

. . .

Obama isn't black.

"Black," in our political and social reality, means those descended from West African slaves. Voluntary immigrants of African descent (even those descended from West Indian slaves) are just that, voluntary immigrants of African descent with markedly different outlooks on the role of race in their lives and in politics. At a minimum, it can't be assumed that a Nigerian cabdriver and a third-generation Harlemite have more in common than the fact a cop won't bother to make the distinction. They're both "black" as a matter of skin color and DNA, but only the Harlemite, for better or worse, is politically and culturally black, as we use the term. . .

We know a great deal about black people. We know next to nothing about immigrants of African descent (woe be unto blacks when the latter groups find their voice and start saying all kinds of things we don't want said). That rank-and-file black voters might not bother to make this distinction as long as Obama acts black and does us proud makes them no less complicit in this shell game we're playing because everybody wins.
. . .
I lived through the 1960s civil rights revolution. Some of us have been saying all along that the U.S. "Establishment" is not now and never has been "liberal." What do I mean by "Establishment?" I mean the little men who run big business, big government, big labor, big universities, and the big media.

Moreover, when it comes to civil rights issues, the U.S. Establishment is racist. What do I mean by "racist?" I mean these overrated, overpaid creeps believe that 19th Century superstitious nonsense that humanity is divided into so-called Caucasoid, Negroid, and Mongoloid "races" and these "races" are always at war with each other so that in a diverse country like the United States one "race" must necessarily have supremacy over the others.

Hence, the preoccupation with Obama's "race."

Here are snippets from the Times piece:


Obama Classmates Saw a Smile, But No Racial Turmoil
by Richard A. Serrano
Los Angeles Times, Sunday, March 11, 2007


HONOLULU — As a second-stringer for the Punahou high school basketball squad, Barack Obama would fire up his teammates with renditions from the R&B group Earth, Wind & Fire. In yearbooks, he signed his name with a flourishing O, for Obama, which he topped with an Afro. In a world of 1970s rock 'n' roll, he was known for a love of jazz.





To his classmates, the skinny kid with a modest Afro had comfortably taken his place in the ethnic rainbow of Punahou, an elite prep school.





. . .





"We had chapel sessions on the Bahai faith, Islam, Judaism, and all forms of Christianity," said Bernice G. Bowers, a classmate. "The message was that diversity made for a richer community."





Dressed like other boys in the required collared shirts and khaki pants, Obama was one of a small number of blacks, but the student body included large numbers of kids with Chinese, Japanese, Samoan and native Hawaiian ancestry, as well as many whites.





"We didn't think about his blackness," said Mark Hebing, who went to school with Obama for eight years.





As a candidate, Obama is also trying to show that he understands the indignities of racism and the economic troubles that many believe continue to flow from the legacy of slavery.





Punahou was where Obama first awakened to these issues, and to the complexities of being black in America. In his bestselling memoir, "Dreams From My Father," he writes that during his time at the school — from fifth grade through his high school graduation in 1979 — he felt the first stirrings of anger toward whites. He says he also delved into black nationalism.





. . .





Obama says that as he found his way in the world, he learned there were limits to the desirability of advertising his race.





"People were satisfied so long as you were courteous and smiled and made no sudden moves," he writes in "Dreams." "They were more than satisfied; they were relieved — such a pleasant surprise to find a well-mannered young black man who didn't seem angry all the time."





Certainly Obama's classmates had little sense of what he says was going on beneath the surface.





"His reflections about the race issue surprised all of us," said Kellie Furushima, who knew him well. "He gave no indication of feeling uncomfortable in school, and I never witnessed or heard anyone being unkind to him.





. . .





Obama lived with his grandparents in an apartment near the school, his father away in Kenya and his mother pursuing studies in anthropology. None of the 40 classmates interviewed for this article — one-tenth of his class — saw the inside of that apartment, nor had any idea that Obama came to Punahou only by the grace of financial assistance with the tuition — $15,000 a year in today's dollars.





In class, he excelled in debate and composition.





Darin Maurer was amazed at what Obama could get done just over lunch at home. "This was before computers, and he could sit with a typewriter and put down a term paper pretty fast, then head back to school and hand it in."





. . .
Afro! Black nationalism! He talked… and typed!

(gasp! shudder! shake!)

Obama may have written that in his book, knowing that people who buy books in the U.S. eat that stuff up. But even if it's all true, so what? All this tells us is that Obama was a very smart, very thoughtful and very precocious high school student. But you knew that already.


Punahou School
was founded in 1841 for the children of Congregational Missionaries in Hawaii. Way back in 1851, the school opened its doors "to all races and religions" (about a hundred years before certain famously "liberal" schools in the Eastern United States, but I digress).

Today, this coeducational school enrolls over 3,750 students. It is non-sectarian but retains its Christian heritage.

What's so terrible about all this? Leave it to the MSM that never questioned what the hell Andover was doing with an obvious dummy like George W. Bush, to try to make it into something ugly.

The Times published a picture from the school yearbook: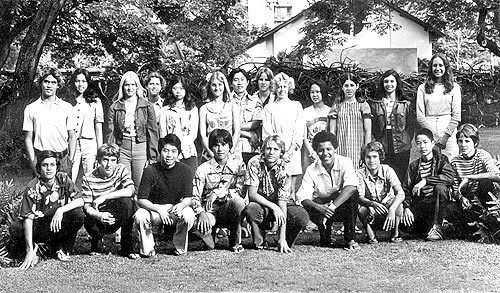 The caption says: "A 1976 photo from the Punahou School yearbook shows ninth-grader Barack Obama-- front row, fourth from right -- with his class."
The kid looks cool. Were you that cool in the 9th grade? I, myself, was a total geek . So, the kid went through changes in adolescence. So what? That's what kids do in adolescence!
Nobody worries about the "angst" of the very self-righteous Rudolph Giuliani growing up in a large extended family that included cops, criminals, firefighters and Mafia hoodlums.
Nobody worries about the "angst" of John McCain, Navy brat born in the Panama Canal zone and the son of Admiral John S. McCain, Jr. For all we know when McCain wanted to be an artist. It's not hard to imagine McCain experiencing "angst" being pressured to go to Annapolis and be a big war hero.
Richard M. Nixon grew up a poor kid in Southern California and nursed a seething hatred of Eastern "liberal" elites to the end of his days. Too bad the know-it-all media never asked questions about the destructive and self-destructive consequences of Nixon's "angst."
My dear wife does not agree with my
FLAME-ON
about this article. She says if all the talk about Obama raises the consciousness of a lot of clueless folks about the perniciousness of racism that's a good thing.
I respectfully disagree. Want to have a serious discussion about U.S. Sen. Barack Obama for president? Talk about the issues and the man's philosophy.
Want to have a serious discussion about racism and the "economic troubles that flow" from the U.S. Establishment? Bring it on