The California Republican Hack Du Jour is Orange County Treasurer Chriss Street.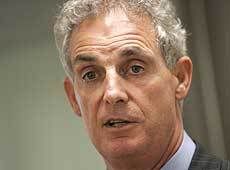 Orange County Funds Hold SIV Debt on Moody's Review
by Michael B. Marois and William Selway
Bloombeb.com
December 5, 2007
Orange County, California, the wealthiest U.S. municipality ever to declare bankrupcty, bought structured investment vehicles similar to those that caused a run on funds invested by local governments in Florida.

Twenty percent, or $460 million, of the county's $2.3 billion Extended Fund is invested in so-called SIVs that may face credit-rating cuts, said Treasurer Chriss Street. In all of its funds, the county holds a total of $837 million of SIV debt, including $152 million in its $3.5 billion of money-market funds that isn't under ratings review, said his spokesman, Keith Rodenhuis.
. . .
''We'll find out real quick if we have a problem,'' said the county's former Treasurer John Moorlach, who is now a county supervisor. ''But for now I need to be patient and wait and see.''
. . .
Moorlach sought to have Street stripped of his authority to manage the county's $6 billion of investments in September amid federal and local corruption probes. He said Street was too distracted by the probes to manage the county's money.
The U.S. Justice Department is investigating Street's spending from a bankrupt trucking company, allegedly for his personal use. . .
The name of the trust for the trucking company (you can't make this stuff up) is "The End of the Road Trust."
Let the whole church say "Amen" to those good old-fashioned Republican conservative "values."
Another reason why we need the California Green Party.

Read More at: http://www.greencommons.org/node/879